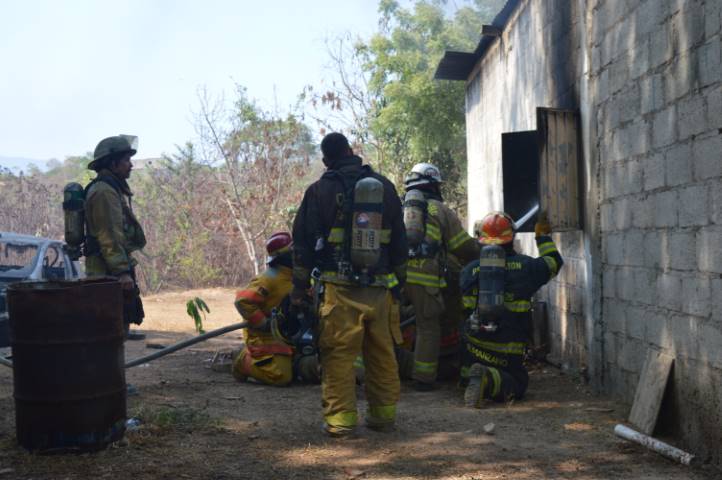 Our Crew
Bret Russell
Bio
Bret has over 40 years of fire service and law enforcement experience with the Orange County Fire Authority. Bret has held the positions of Firefighter, Paramedic, Fire Captain, Assistant Fire Training Officer, Helicopter Crew Chief, State Safety Officer, Fire/Arson Investigator and retired as a Fire Chief. In addition, Bret was also a member of the California Urban Search and Rescue Task Force 5 FEMA, U.S. Department of Homeland Security, for 23 years, assigned as a Safety Officer / Medical Specialist and Rescue Specialist. Bret has held the position of Director of the Emergency Management Program for the Capistrano-Laguna School District. Bret currently teaches the State Fire Classes, the fire academy at the College of the Desert and is president of Russell Fire/Arson Investigations.
Bret Russell II
Bio
Bret currently holds the position of Fire Chief for the Beckwourth Fire District in California. He began his career as a Fire Explorer, paid call firefighter for the Orange County Fire Authority. His path has allowed a wide variety of experiences. He has held the positions of USAR Logistics technician for the California Urban Search and Rescue Task Force 5 FEMA, U.S. Department of Homeland Security, Professional Firefighter, Training Officer, Training Chief and Fire Chief. Bret has also earned his teaching credential and worked as an Emergency Medical Responder, Emergency Medical Technician and Fire Technology Instructor.
Wilber Guerra
Molly Jones
Frank Carrey
Efrain Guzman
Bio
Efrain spent 13 years in the Marine Corps and 30 years with the Phoenix Fire Dept. He is an EMT, Technical Rescue and Hazmat Technician expert and a member of the Arizona Urban Search and Rescue Task Force 1 FEMA, U.S. Department of Homeland Security. Efrain enjoys teaching firefighters in Mexico and is an IAFF HazMat first responder instructor and a Texas A&M WMD train the trainer instructor. He's bilingual and a Spanish instructor for the Phoenix Fire Department.
Greg Ryan
Bio
Greg has over 38 years of fire service experience. He has held all ranks and retired as a Fire Chief for the City of Rio Rancho, New Mexico in January 2002. Greg returned home to Southern California, where he worked as Deputy Fire Marshal for the Carlsbad Fire Department until he retired in 2016. Greg is certified by CA State Fire Marshal's Office and IFSAC as a Fire Investigator, Firefighter II, Fire Officer, Hazardous Materials Specialist and Chief Officer. Greg is also certified by the CA State Fire Marshal and the International Code Council as a Fire Inspector II/III, Fire Protection Specialist and Plan Reviewer. He is certified as an Executive Fire Officer through the National Fire Academy and holds a Professional Certificate in Emergency Management through the Federal Emergency Management Agency. Greg now resides in San Diego County where he works with numerous organizations on firefighter health and safety issues as they relate to job related cancers.
Robbie Cassou
Garrett Jones
Francisco A. Rodríguez G.
Bio
Alejandro entered the emergency services Youth with the Child Civil Protection group in the municipality of Tecomán Colima at the age of 9. Alejandro is a BLS, ACLS, PALS, NAEMT, PHTLS, AMLS, AHDR and EVOS instructor. He is currently director and commander of the Municipal Unit of Civil Protection and Firefighters of Comala Colima and is completing his Bachelor's Degree in Industrial Safety, Civil Protection and Emergencies.
Adam Eakes
Ryan Boersma
Bio
Ryan Boersma has been with Boulder Fire Rescue for about 10 years. He was promoted to engineer about 2 years ago. Along with structural firefighting, Ryan specializes in Wildland Firefighting and Technical Rescue. He is married with 3 children ages 6,8, and 10. Most of his time away from work is spent with his children in multiple sports and activities. In Ryan's free time he enjoys water skiing, downhill skiing and muscle cars.
Matt Watson
Bio
Matt has been in the fire service for 18 years. He started with Snowmass Fire Department in 2001. In 2004 he began working for Boulder County Fire wildland division and continues with the division for 6 years. In 2008 he joined the Haz-Mat team. In 2010 Matt transferred to The City of Boulder structure fire division where he is currently a first-class firefighter, EMT and Haz-Mat tech.
Manuel Garcia Jr
Bio
Manuel started his fire service career in 2008, as a volunteer with Fairmount Fire Protection district in Golden, CO. In 2009 he was blessed with an opportunity to work with Boulder Fire Department. He has been with Boulder Fire Department for 10 years. Manuel is currently a First-Class Firefighter-EMT. In addition, he has recently started volunteering with the International Firefighter Training Association, which has ignited a new passion for International Firefighting Training in Puerto Vallarta.
Glen Kice
Bio
Glen's career started as a volunteer on a small, rural fire department near Durango, Colorado, for the Hermosa Cliff Fire Department in 1986. He spent 2 years there, before relocating to Denver to prepare for a full-time career in a larger department. While testing for any and every department in Colorado, he joined another volunteer fire department, Longmont Rural FD. In 1990 he obtained his first fire department position with Rocky Flats Fire Department and worked there for a year. In 1991 he was hired by The City of Boulder Fire Department. During his career on Boulder Fire Department he has been a member of the water rescue team, dive team, wildfire team, and public education team. Glen has also been a member of our teaching cadre program, where he has taught new members of the department driver training and pump operations. He is currently a member of the peer fitness team where he helps develop wellness classes, contribute to the monthly newsletter, and perform fitness testing on members. In 2019 he was promoted to the position of Lieutenant, which he currently holds. Glen states, "I love my job as much now as I did when I first got hired. It allows me to continue to grow and learn. I am looking forward to assisting with the trainings for the PV Fire Department."
Brian Oliver
Bio
Chief Oliver started his career with the United States Forest Service in May 1995, as a wildland firefighter on hand crews and engines on the Rio Grande National Forest in Southern Colorado. He began his service with Boulder Fire Rescue in April of 1999 and has held almost every position in the Wildland Division. He has worked as a seasonal crewmember, Lead Firefighter, Crew Supervisor, Fuels Manager, Operations Manager and currently serves as Division Chief. Chief Oliver holds National Wildfire Coordinating Group certifications as a Safety Officer, Division Supervisor and Incident Commander. When not at work, he enjoys golf, running, hiking and working on his jeep.
Brian Marron
Bio
Brian is a Lieutenant with the Boulder Fire Department, where he has worked since 2007. He is a member of the Boulder County Hazmat Team and a fire instructor at Aims Community College. In his free time he likes to travel with his wife and three kids or spend time boating.
Dave Richter
Bio
Dave has been a Boulder Firefighter since 1983. He started his fire service as a volunteer with Wheat Ridge FD in 1977. When he was in Junior High School, he determined this was the career for him. He was a Rescue Diver for 27 of those years and is still on the Wildland Firefighting team. He has a wife, son and two grandchildren. They like to travel and explore new places. While at home you can find him working with metal in his shop.
Dave Heil
Bio
Dave has held positions with U.S. Forest Service and Cal Fire as an AFEO (Assistant Fire Engine Operator). In 2006 Dave transferred to the Camp Pendleton Fire Department. Dave is on the Type 1 Haz-Mat Team, wildland fire fighting cadre, Dozer Boss as well as a Swift Water Team member and currently a Lieutenant assigned as a Rescue Officer on a heavy rescue unit.
Jack Kou
Bio
Jack has been a LA County Fire Department ASC certified mechanic for over 20 years. His certification encompasses light vehicle, heavy truck, pumpers and aerial apparatus. Jack not only inspects, drives and repairs all of the donated fire apparatus, he also travels and teaches vehicle maintenance, vehicle and pump repair and preventive maintenance classes. When not in Southern California fixing rigs, Jack can be found in his part time home in Comala, Colima, Mexico.
Manuel Santiago Hernandez
Bio
Manuel is a second officer firefighter with the Vallarta Fire Department. He graduated from the Vallarta Frie Academy in 2005 as a firefighter and ICS officer. He is a search and rescue specialist.
Ezequiel Cardenas Peña
Bio
Firefighter with Vallarta Fire Daprtment since 2009. Ezequiel graduated from the Vallarta Fire Academy as a firefighter and vertical rescue specialist.
Carlos Robles
Bio
Carlos is a second officer firefighter with the Vallarta Fire Department. He graduated in 2006 from the Vallarta Fire Academy as a firefighter and vertical rescue specialist. In addition, he is a comprehensive risk management technician.
Carlos Munguia
Bio
Carlos has been a firefighter and EMT with Vidanta Fire Department since 2016. He is as a certified firefighter in California, USA and Mexico.
Gabriel Rodriguez Santana
Bio
Gabriel has over 20 years experience. He was with the Puerto Vallarta Fire department for 20 years as a firefighter and EMT. After retiring from PV Fire department he now works for Vidanta. He is also a speicalist on vehicle extracation and fire extinsion.
Eliseo Soriano Izquierdo
Bio
Eliseo is a second officer firefighter with the Vallarta Fire department. He graduated from the Vallarta Fire Academy in 2002 as a firefighter and EMT. He is a comprehensive risk management technician, and an officer in charge or the Puerto Vallarta prehospital department.
Ulises Estrada
Bio
Ulises works for LA County FD and is currently assigned to USAR Task Force 103 as a Firefighter Rescue Technician. His experiences in public safety have come from various paths such as, responding to national disasters like Hurricane Katrina. When not working as a firefighter, he continues to serve the people of LA County as a Mountaineer for the Sheriff's Department Search and Rescue Team. In addition, he is a California Certified State Fire Instructor, is part of the cadre for the department's Technical Rescue School, as well as Rio Hondo College Fire Academy. Ulises is thrilled to be a part of International Firefighters Training Association. He looks forward to collaborating with fellow firefighters from other departments.
Angel Elias Mendez Garcia
Bio
Angel Elias Mendez Garcia has been a part of the Red cross for 13 years. He joined when he was 18 years old. He is a General Nursing Technician, as well as an Advanced Medical Emergency Technician, Intermediate Vehicular Rescue Technician. Angel is an instructor in basic and intermediate vehicular rescue technician. He is currently the local coordinator of Socorros Colima.
Roberto Carlos López Estrada
Bio
Roberto Carlos López Estrada holds a degree in nursing, he has worked for the regional university hospital of the State of Colima and for the Mexican Red Cross in the State of Colima as deputy state relief coordinator. Roberto has 23 years of active service. His specialties include: PHTLS, TCCC, ACLS, AMLS, Search and Rescue in Collapsed Structures, Heavy Level by Teex School, Course of Collapsed Structures Light Level (CRECL), Technical and Basic Level Inter-Level Vehicle Rescue Vertical Rescue, Vertical Rescue, Vertical rescue Technician, Medical Team Online Courses by TEEX and FEMA School, Basic Emergency Medical Service, Basic Concepts in Biological, Radioactive, Nuclear and Explosive Chemical Weapons and FEMA.
Daniel Solis
Bio
Daniel currently holds the position of Fire Fighter II with CAL FIRE / Placer County Fire, in Auburn, California. He began his career as a paid call firefighter for the San Bernardino County Fire Department. Daniel has over 6 years of experience working for the State of California; with most of those years as a Wildland Firefighter. He has held the position of Type III PIO and Type II PIO trainee, for multiple CAL FIRE Incident Management Teams. In addition, Daniel is also a certified Hazardous Materials Specialist and Registered Fire Instructor, through State Fire Training. Daniel is also currently an instructor at the College of the Desert Fire Academy.
Filiberto Urrutia
Jose Hernandez
Gabriela Cabrera Morales
Bio
IFTA Jalisco Public Information Officer

Adolfo Ramos García
Bio
My name is Adolfo Ramos García, originally from Tuxpan, Jalisco, México.
I started in the area of civil protection and fireman when I was 14 years old. Currently, I am 38 years old and I have dedicated myself to assisting municipal units with civil protection and firemen service.
Trajectory:
I worked for the Tuxpan municipality where I was the official third officer and during that time I was also chief lead.
I then joined the state unit of civil protection and firefighters in Jalisco where I started as official third officer. Currently, I work as an official second officer and official operative in the regional command of the city of Guzman, and have been since I was 18 years old.
I functioned as director of civil protection in the municipality of Gómez Farías Jalisco, during the 2018-2021 administration.
Currently, I am working as Chief of the department of the municipal unit of civil protection and firefighters in Tuxpan Jalisco México.
I am licensed in occupational safety, civil protection, and emergencies by the University of Guadalajara Jalisco México.
I have a diploma in structural firefighter level two endorsed by the autonomous university of Guadalajara with the updated fundamentals of ifta on fire.
Diploma in: Civil Protection endorsed by the autonomous university of Guadalajara.
I have courses in diving, open water rescues, PRIMAP (first response to emergencies with dangerous materials), and courses for operational levels, CPI courses for instructors by Usaid ofda lac. I also have several courses in forest fires, vehicular extractions, vehicular rescues, EDAN evaluation of damages and needs analysis, introduction to civil protection, conflict management, and laboral stress. Other courses that specialize in BREC (find and rescue in collapsed buildings) and CRECEL basic course in collapsed structures conducted by usaid ofda lac from the United States.
Joshua Smith
Bio
Josh has been in the fire service for 13 years. He is currently works for the Orange County Fire Authority. In addition to firefighting, Josh works Ski Patrol and avalanche prevention for Mammoth Mountain during the winter months. He has experience as an Orthopedic Technician. In his time off, Josh works as fly-fishing guide in the Mammoth Mountain area.
Ray Valenzuela
Bio
Ray Valenzuela is a retired firefighter with 35 years of experience. Ray began his fire service career in 1978 as a firefighter and worked his way through the ranks retiring as a Battalion Chief. During his career his assignments included field operations, law enforcement and administration.
United States Fire Departments
Mexico Fire Departments